Every time you're starting a new tech project, there are a lot of things to consider. And a lot of things to bring to the table too. A great way to kickstart your project is by collecting the essential material, like templates, icons, even CSS3 and HTML5. Do you know the best part of it all? There are a lot of package deals that you can purchase for a sweet cost, which come loaded with all the stuff that you might need. Instead of creating things such as templates and icons from scratch, or sitting and writing every line of code, buying these tech deals from reputed companies saves a lot of time and efforts.
In this article, we are highlighting 10 of the sweetest tech deals you can find to get a headstart on your new project.
This all-encompassing and massive bundle from Develop Go has everything that you need to get started with your new WordPress website. It features 15 premium themes, 15 Bootstrap 3 templates, 27 premium HTML5 templates, 25 CSS3 design and navigation, and a lot of cool stuff that adds up to a total of 100 products.
And the best part about it is the lifetime access. With premium themes and templates, you can create a lot of awesome websites right from professional to creative and everything in between. These themes and templates are customizable, flexible, and come with other powerful complimentary features.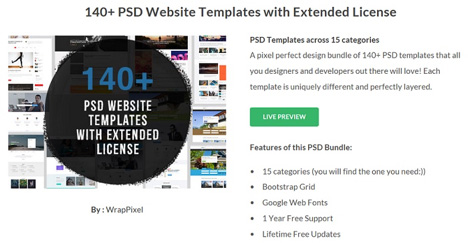 This is a bundle of over 140 web page Photoshop PSD templates. It comes with an extended license,  and this bundle deal also has some pretty awesome templates and features. Another creative offering from WrapPixel, this bundle has 15 categories of templates, a Bootstrap grid, Google web fonts, and a year of free support.
Want to design some kickass web pages? Then this bundle is perfect for you. It is especially useful for renovating websites or optimizing web pages and making them more attractive. With the 15 categories, there is so much freedom to create versatile websites.
No website is complete without icons; actually, the more creatively icons are used in a website, the more memorably-fun it becomes. This bundle is one tasty dish of 1000 flat icons that span across 28 categories! Yes, you heard that right….28! Some examples of icons are arrows, emoticons, e-Commerce icons, furniture, business and finance, building, and the list goes on.
Imagine all the effect that you can accomplish using this bundle deal. No matter what website you create or redo, there will be appropriate icons for appropriate effect. Now isn't that fun.
This is an iconic bundle of icons that bigger than any. Guess how many icons it offers. A whole 5300+ across 391 categories! Amazing, right? This bundle comprises PNG and SVG icons that you can use across ads and banners, infographics, social media posts, pamphlets, etc. We're guessing once you buy this one, you probably won't be needing any more icons in your life!
The best part is that this entire bundle is already organized into the aforementioned categories, saving you the time of doing so yourself. And the best part is that it has lifetime access! More than 5000 icons for life; probably doesn't get better than this.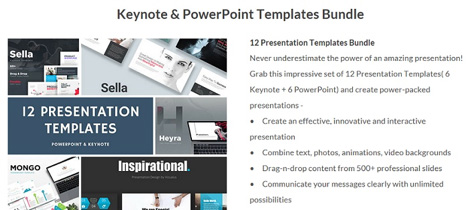 Making presentations on a regular basis? Then you probably can't, and shouldn't, use the same templates again and again. But who has the time to create a new one each time? So why not consider this bundle from Vizualus instead?
This set comprises of 12 presentation templates, 6 for keynote and 6 for powerpoint. These templates allow you to add photos, videos, text, and animation to the slides, as well as drag and drop content from 500+ professional slides. Cool, huh? No more worries about creating smashing presentations.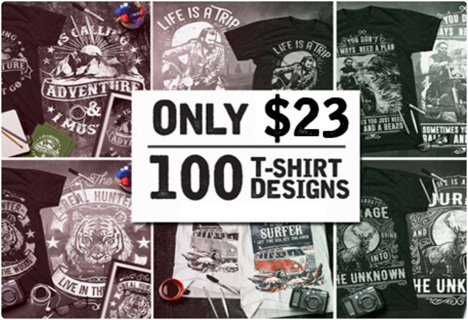 Designing T-shirts is more fun than ever with this super-duper cool bundle of designs. If you own a T-shirt designing e-Commerce store, then you will greatly benefit from this awesome bundle. And wait, it's not just restricted to clothing. You can get creative and use these illustrations across mugs, posters, bags, shoes, wherever your mind takes you.
These designs are flexible and can be scaled to fit the item. Or you can take inspiration from them and create your own unique something. You will find designs like pin-ups, animals, inspirational messages, and a lot more! Pretty cool, right?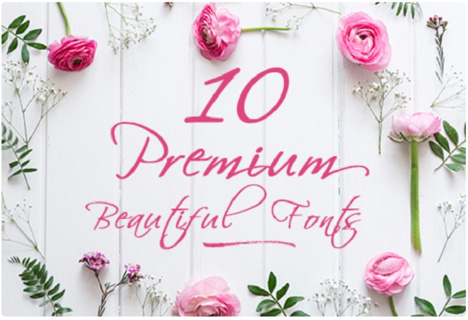 Make beautiful posters, pamphlets, social media images, banners, emails, or other written messages using these pretty-handy, and very pretty (!) bundle. It's perfect for logos too, with a combination of 10 handwritten, clean, and gorgeous fonts.
Never underestimate the power of a beautifully-written word. Fonts that are catchy and pretty make for an interesting read and are great for captivating audiences. So if you deal with creative writing on a regular basis, then you can greatly benefit from this useful and smart little bundle.
This is one helluva smashing bundle of 15k+ frames of different kinds. Or actually, mockups of frames. It has frame mockups of bestsellers, awesome, unique, cool, and many more kinds. Frames are great and very useful for those who create graphics or images on a regular basis.
For example, e-invitations, greeting cards, pamphlets, social media images, etc. require frames all the time. What's better than having a variety of 15k+ frames to choose from? Nothing! (kidding) Whether it's something beautiful, impactful, or just the usual jazz, this bundle has got you covered on the 'framing' front.
Thinking of taking up social media marketing on a regular basis? Then you ought to check out this wonderful bundle of 5 courses of SMM. This bundle is perfect for freelancers, business owners, and even working professionals who want to enter the SMM space.
With digital marketing becoming an up and coming profession, SMM has become a popular choice in the stream. This course offers learners a lifetime access and includes courses related to SM in the workplace, media and PR, internet marketing fundamentals, webinar creation, and online marketing basics.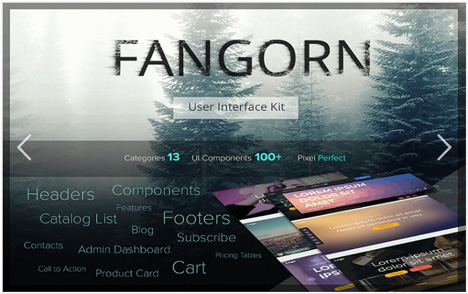 This bundle from Fangorn contains elements such as pixel perfect designs, 100+ UI components, modern and creative designs, layers, and so much more. Don't fret over how your website will look and feel, because this bundle has everything.
You can create prototype designs for business websites, e-Commerce websites, magazines, apps, portfolios, startups, real estate websites, and more. Create unique web page designs and blow your clients away!
In Conclusion
You need a lot of stuff already in hand to successfully kickstart a project. So why waste time building templates or creating icons when you can buy these amazing bundles and get started right away? These amazing tech deals are worth your time, and investment too.