Whether your website has plateaued or you are just getting started, you want to boost your online presence. There are a lot of different ways off going about successful marketing. There isn't really a set way for you to do it; you just have to find the approach that works best for you. Here are five free promotional and marketing resources that can help you get your business to the next level.
FotoJet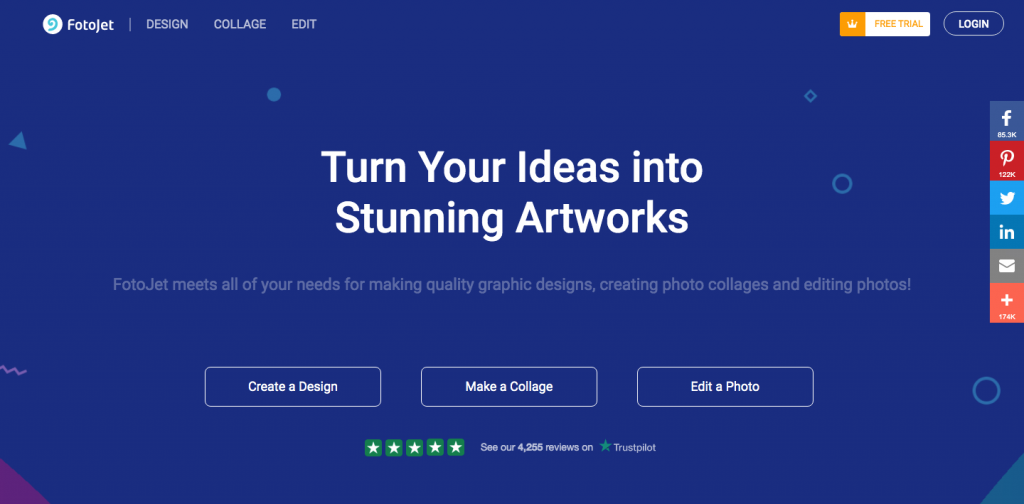 Before jumping into any promotional tools you want to make sure your brand assets are on point. Your marketing efforts will only be as effective as your branding. Make sure your brand assets are designed in a professional and consistent manner. If your budget doesn't allow for an in-house designer use a tool like FotoJet. This web based graphic design editor allows you to design anything brand related from business cards, presentations, flyers, banner ads and more. To get started pick what you want to design, then select a template and personalize to fit your brand guidelines. Once you are happy download instantly and start promoting via web or print.
MailJet
One of the most effective tools in any marketer's toolkit are email campaigns. If you aren't already, start encouraging your website visitors to share their email addresses with you. This will allow you to start building a relationship over long form email campaigns. If executed properly this can turn visitors into customers and hopefully word-of-mouth soldiers for your brand. Use a free resource like Mail Jet to get started with your email campaigns. This resource allows you to create beautiful email templates that you can fully personalize. Once ready upload your email contacts and start sending off emails based on the rules you set.
Adobe Spark
Marketing through your social media channels is a no-brainer of course. However, successfully promoting your brand through social media is all about subtle details and proper execution. Don't simply go through the motion of publishing posts and hope for user engagement. Social networks are overwhelming in nature when it comes to new content. If you want to stick out you need to design eye catching content pieces that are well aligned with your audience's appetite for content topics. Spark Adobe lets you design beautiful posts for Facebook, Instagram, Twitter, Pinterest and more. The process only takes a few minutes. Pick a template, upload your logo and brand colors, personalize your content and finalize. You can then publish to your preferred social media platform instantly.
Friends Plus Me
Creating beautiful social media posts it one thing. To be successful in marketing through social media you also need to do so frequently. If your business has a presence on multiple platforms and each requires 4-5 posts per week, scheduling quickly becomes a factor. If you are like most entrepreneurs you have major time constraints so automating your social media posting is crucial. Friends Plus allows you to share your social media posts across Facebook, Twitter, Instagram, Pinterest and more for free. It's easy to schedule your content, create a post and set the scheduling rules.
InspectJet
With all of your marketing efforts wouldn't it be nice to see how exactly your users behave on you website. Of course, there are great resources available like Google Analytics. You can gather a lot of data through this source but sometimes you need to visually see where users run into issues and where they are dropping off. Inspectlet offers free sessions recordings, heatmaps and more. Installing the application is easy, simply copy and paste a code snippet. With that in place you can watch live video of how your users are behaving on your site. Based on this information you can make adjustments to improve your conversion rates. This incremental revenue then allows you to funnel more money back into marketing.
Bonus tool – VEED
VEED is an excellent addition to your marketing toolkit, especially if you want to add video content to your strategy. Until now, video is considered a powerful medium to present yourself online. VEED offers a simplified editing process, making it accessible to even those without advanced video editing skills. With its creative features, you can translate your video to make it more accessible, download Instagram stories for reposting, and even generate AI images to fine-tune your visual storytelling.
Ready, Set , Go
The marketing tools highlighted here are just a starting point. However, if you execute these well your branding and marketing will be much better off already. Once you have exhausted these resources you can discover additional tools that help you boost your business in other ways. Now it's time to think like a marketer. Ready, set, go!