With too many devices around, I usually feel a need of a service/device where I could sync all my content all together between them and access from whichever device needed. I have a desktop and a laptop system with me but when working on laptop, I usually feel in need of few items which were there in my desktop but couldn't get them until and unless I go manually to the desktop, copy the content on my USB Hard Drive and come back to the Laptop.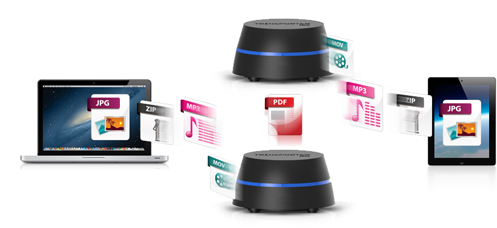 I have been looking around for many Network Access Drives. I have been checking out Western Digital's cloud drive as it connects directly to the router at home and serves as a personal cloud storage. But 2 reasons which have been keeping me back from purchasing one such drive were: The cost, which was too high, and inability of dew older cheaper ones to connect directly to a computer through a USB port.
Recently I stumbled across Transporter Device from Connected Data. Transporter is a similar cloud storage device as other NAS drives. But the recent addition to their family, the Transporter Sync is what made me a huge fan of it. Transporter Sync is kind of an NAS without any storage of its own. One can just connect any existing USB Drive to Transporter Sync and get access to all the data on the drive across home network or over the internet. It gives one a private and personal cloud storage with no recurring charges or subscriptions. Just a one time purchase cost of $99 and you can get going with almost unlimited cloud storage. Almost unlimited because Transporter Sync supports up to 4TB USB Drives, which is virtually an unlimited data storage I could think of from a normal user point of view.
I am really looking forward to get one but unfortunately it isn't available in India right now and neither I expect it to be arriving arriving anytime soon. So, right now looking for someone coming from the US to get one Transporter Sync for me.
I hope I get one soon and write another blog post here sharing my views and thoughts.