Prepare for the Holidays, Automate your Social Media Activities with Microsoft Flow.
In continuation with my earlier post on Automating Social Media Activities with Microsoft Flow, I planned to write another post which explaining the functioning of Microsoft Flow with an example.
Blogs are quite popular these days as they provide to be a source of latest information. People use it to share their experiences, companies use to publish about any news or events happening within the organization, communities use for publishing new about technology, photography, politics etc.
Once a new blog post is created, the next major step the author looks forward to is sharing the post over social media channels. This is a great way to get traffic on your blog and let people know what you are writing about. But manually updating sharing these on social networks could be very time consuming and cumbersome task.
One can streamline this workflow and make it automated by using Microsoft Flow. Flow helps you create custom workflows that automate actions between popular apps and services. Using the power of Microsoft Flow, we will create a workflow below that will check for Blogger, WordPress or any RSS feed and publish them on Facebook and Twitter.
1. Sign Up with Microsoft Flow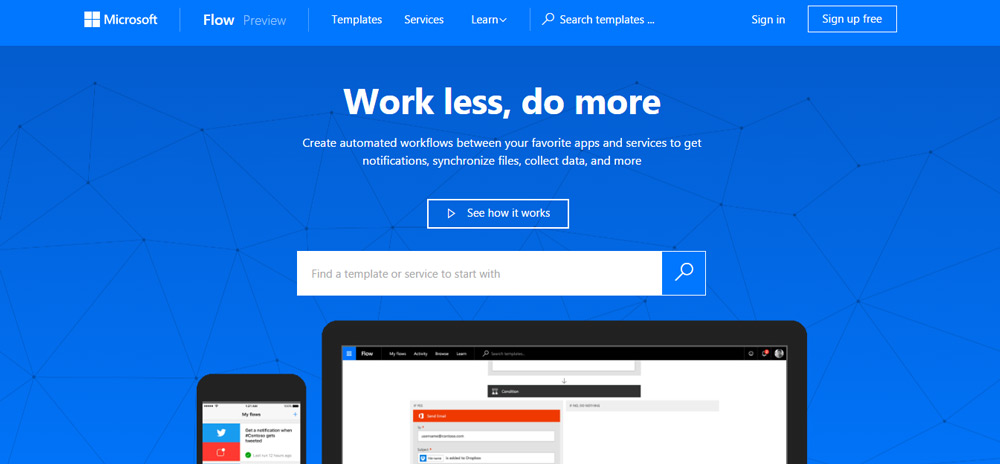 Go to https://flow.microsoft.com/en-us/ and sign-up with them using your Microsoft Online account.
2. Create a Flow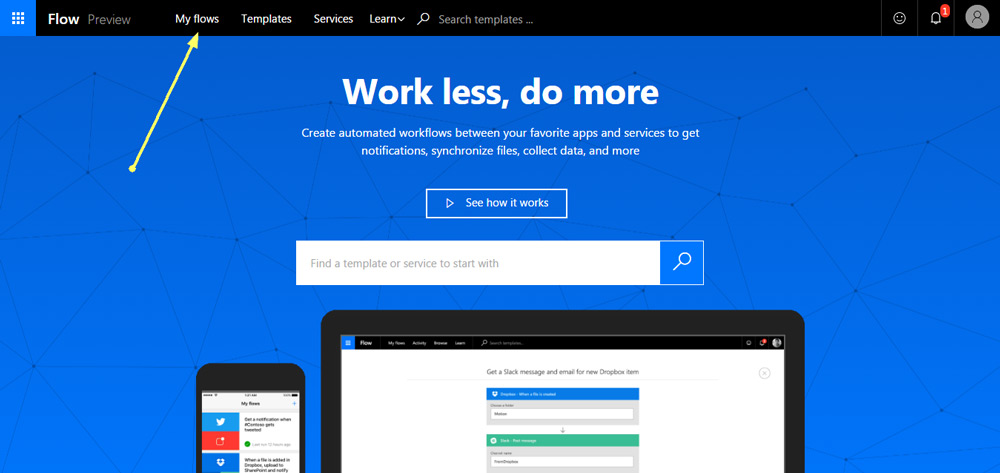 After logging in, once you go yo My Flows, you will have an option towards top right to either "Create from Blank" or "Create from Template".
3. Define Flow
Once you start with the flow, give it a name and start setting Triggers. As in our case we need to fetch updates to an RSS feed or Blogger and push it to Facebook and Twitter, we would need Triggers related to these services.
3. a. WordPress RSS or Blogger Trigger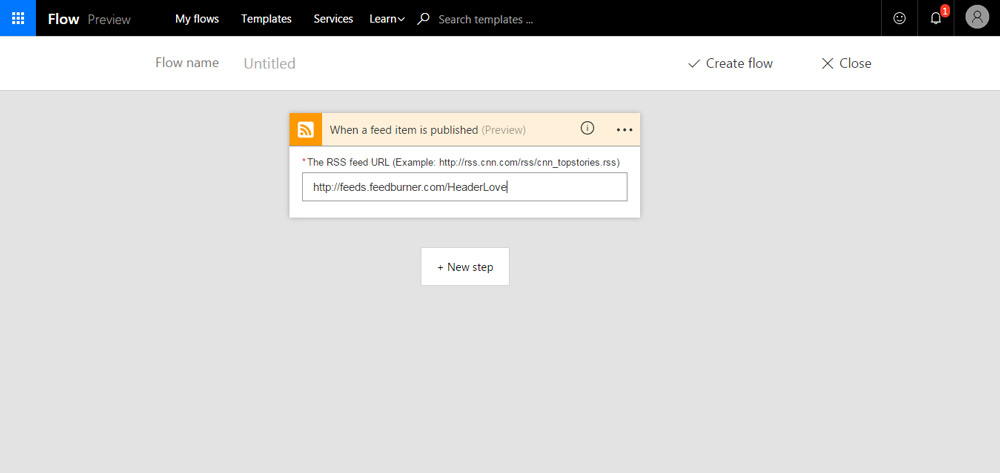 For the purpose of this post, I am using feed of a Design Showcase website of mine, HeaderLove. The feed is hosted with FeedBurner and the format is RSS.
3. b. Connect with Twitter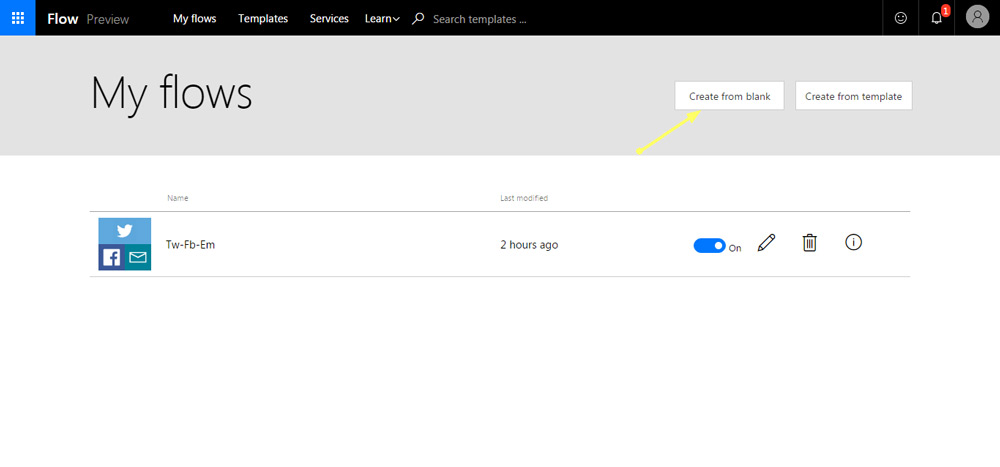 Once the RSS feed is connected, the Workflow will start looking for any updates in the RSS feed. As soon as there is an update, we first post a Tweet. So, we select the next trigger for Twitter and select the Post a Tweet option.
For the first time, you will have to link your Twitter Account with Microsoft Flow.
Next, we need to see what to post in Tweet, so we are selecting "Feed Title" and "Primary Feed Link".
3. c. Connect with Facebook
Next we select the Facebook trigger to Post to my Timeline. For the first time, you will be asked to link your Facebook account as well.
Next, similar to Twitter, we set the post content for Facebook also to be "Feed Title" and "Primary Feed Link".
3. d. Once all is done and you have given a name to this Flow, Hit Create Flow.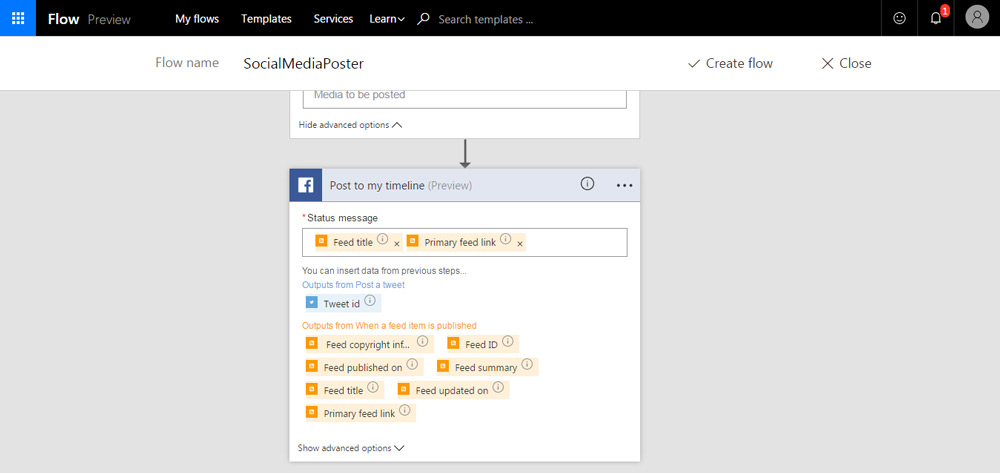 Wolla!! Your Flow is created and starts running. Now every time you post a new content on your WordPress Blog or Blogger or any of the RSS you linked, it will be shared on linked Twitter and Facebook accounts as well.
Flow provides support for a number of other services which you can use and set triggers for. The number os use cases that can be created and automated with the Flow platform are unlimited.