Your website is supposed to be eye-catching; has creative images and titles as well as engaging and relevant content. While having all these things is important, a more important factor to keep in mind is the layout. A slider layout, for example, is very attention grabbing and will likely be the first thing your web visitor notices. The layout of your site will highly affect the success of your website.
The kind of layout you have will tell a lot about the legitimacy of your business. You don't want a layout that makes you look suspicious. Aesthetics tell a lot about a business. So if you have a website that is ugly, difficult to navigate or even too difficult to access, you may reduce your potential customer's trust in you.
A well thought out layout will make your business goals clear from the moment a user lands on your site. Layouts are important when it comes to web design because it makes your website attractive and appealing to your users.
When choosing a website layout, keep in mind your customer's expectations. Pick a layout that enhances your site's relevancy to keep customers interested. The type of business you run will determine the kind of layout you will pick.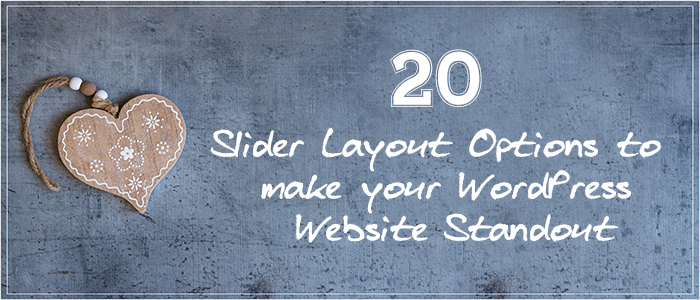 Finding the best Slider layout for your WordPress Site
Slider layouts are an ideal way to showcase multiple images in an eye-catching way that grabs your visitor's attention immediately they land. There are lots of plugins that you can use to create a slider on your site. We've put together this collection of 20 of the best homepage slider plugins. Check them out below.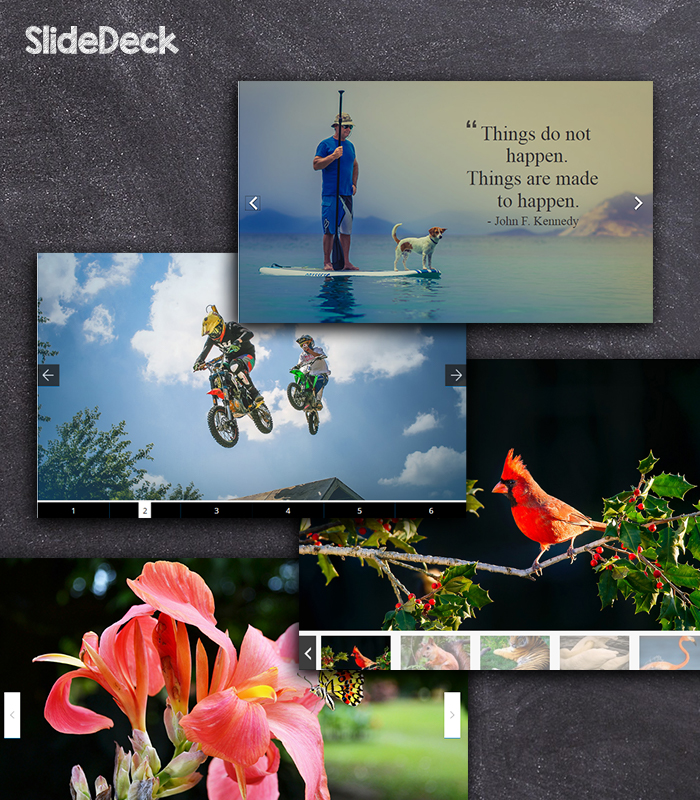 This plugin allows you to easily create a stunning WordPress image slideshow without the need to learn how to code. The plugin supports images, text, video, and custom HTML. You can also integrate content from Facebook, Instagram, NextGEN, YouTube, RSS feeds, among others.
It is responsive on all devices including mobile. The plugin has lenses that allow you to customize the look of your slides.
This is a slider plugin based on jQuery and CSS3 effects to power animations. The plugin is great when you want to create carousels and slideshows. The plugin comes with a lot of different skins to choose from. The plugin is quite reliable and will not slow down your site as it adds one query only to your website, making it one of the most efficient slider plugins.
This the free version of the Soliloquy slider plugin. Just like the premium plugin, the lite version is fully functional and very fast, which is great for your site to rank higher on search engines. The plugin helps your SEO efforts further by allowing you to add a metadata for each slide making your website SEO friendly.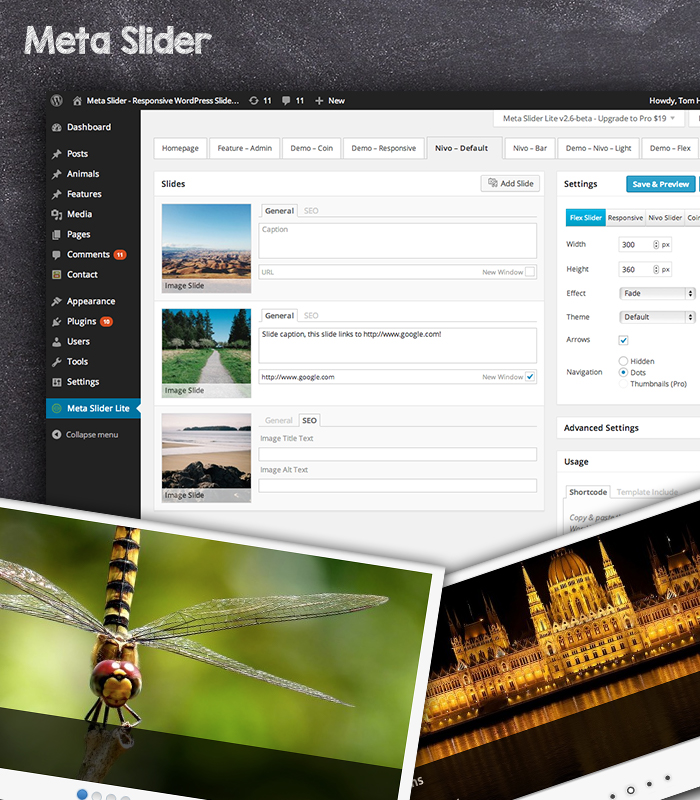 This slider plugin is great for a slider layout as it combines multiple free slider scripts, animations, transitions, and rendering effects. The plugin is simple and quite easy to use. There's a pro version Meta Slider plugin that comes with additional features making your website ever better.
This is one of the most popular slider plugins available on the market. The plugin gives you a super stylish, full-width slider layout that is extremely responsive. You can use this slider plugin on any website and it will work remarkably well on any device.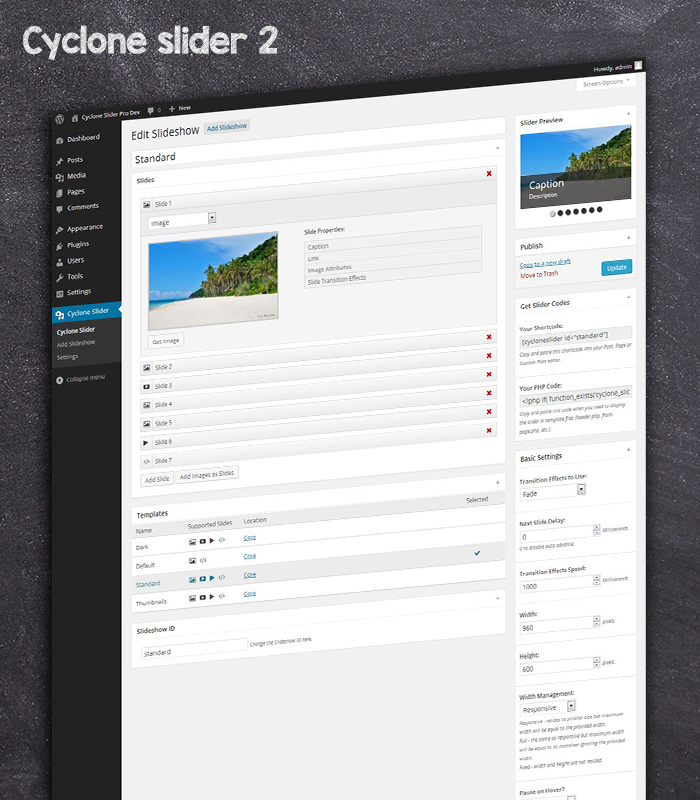 This plugin operates on jQuery and is a very versatile slider that will support images, text, videos, testimonials, and even HTML. The plugin gives you responsive slides that look good on all devices. The plugin also allows you to have random slides and you can add a widget to display your multiple sliders. The plugin also allows you to import images from NextGEN gallery.
This slider is awesome and lets you display your posts in an attractive slider. The plugin is easy to use and once you activate it the colors are set to black, so you'll see a black box after entering the slider shortcode. You can then change the colors to what you want.
This is another efficient free slider plugin that is popular because of its simplicity. The plugin is easy to use and all you have to do is upload a few photos or videos or photos and you'll have a responsive and stylish slider on the front end of your website in no time.
This is a simple WordPress slider layout plugin that is both mobile friendly and responsive. To create a slideshow with Meteor Slides, add one slide at a time and pick a slideshow for each of the new slides as you add it.
This plugin is very useful and enables you to create slides for your featured posts, pages, images, as well as custom post types. You can choose to have your recent posts and categories as your power slides. You can also customize the background of each slide however, you want. The plugin comes with a very responsive design with six transition effects. The plugin's slides are optimized to be found by search engines and also mobile friendly.
This slider layout plugin is lightweight and responsive and will only add 16kb to your total page size. The plugin is characterized by CSS3 transitions, a visual editor that you can use to style your slides and preloading functionality that ensures your slider loads very fast. You can add images to your slides directly from your website media library. The Easing Slider Pro supports YouTube and Vimeo video playback as well as technical support in case you need assistance.
The Smart Slider plugin features an inbuilt customizer that you can use to quickly create your slideshow. The plugin comes with powerful features such as animations, and transitions. You'll have to pay for some features but you can still use the free ones to create a powerful slider to your site.
This is a simple WordPress slider plugin full of useful features. The plugin lets you create slides straight from videos, posts, images, and HTML. The plugin comes with various transitions and effects. The best part about this plugin is that it's fairly easy to use.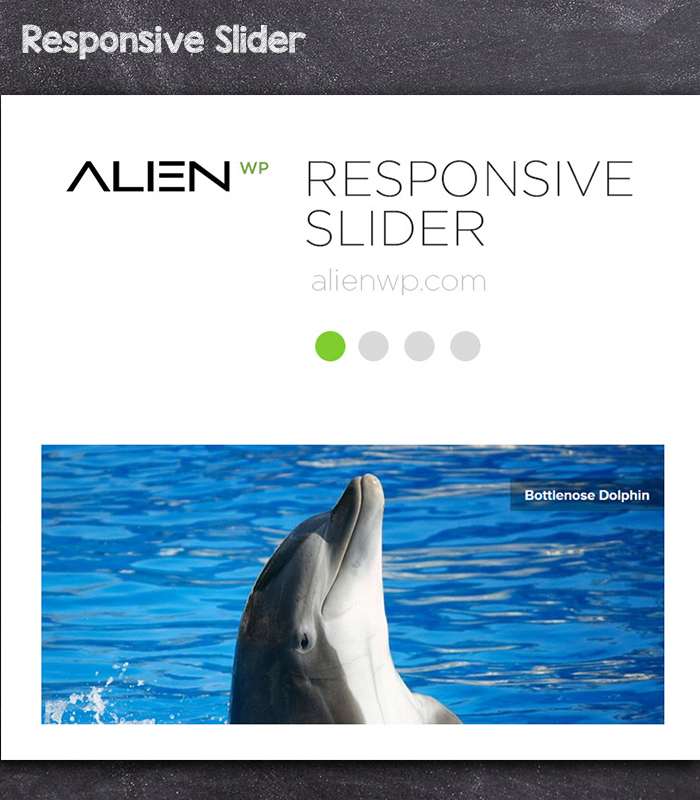 This plugin is pretty basic and allows you to add a responsive slider layout to your theme, page or post. This plugin, unlike the others, does not come with a lot of settings but its simplicity is what got it to this list. You can, however, define the width and height of your slides to your liking in the settings area. The plugin also lets you decide the time delay between slides and the animation length.
The Slider Pro is one of the best premium slider plugins that comes in an elegant design, features quick creation tools and is very responsive. You're able to connect the plugin to your Flickr account and it will automatically pull your content and add it to your slider. The plugin has a touch-swipe capability that makes it work well on iPads and tablets. The plugin has an animated layer that is great for grabbing your user's attention and keep them on your website.
This is a responsive touch-enabled slider plugin that allows you to showcase your posts, videos HTML, images from Flickr and Instagram, as well as your WooCommerce items in a slideshow. You can add multiple sliders to a page using four unique skins. You can edit the CSS of the skins directly on the plugin.
This premium slider plugin comes with slideshows, and image galleries, enabling you to give your users the ideal multimedia experience. The plugin comes with over 200 2D and 3D transitions. You can also build your own custom transitions using the slide editor. The plugin also features a powerful drag-and-drop editor that allows you to see real-time previews, import, and export and move components in a timeline view.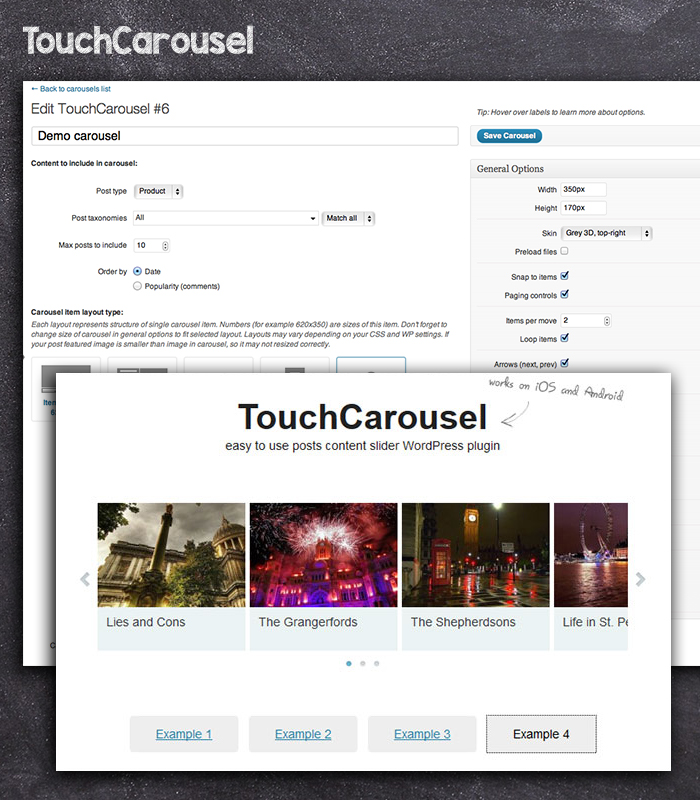 This is a pretty awesome slider plugin that showcases your posts in a slideshow. The plugin makes it possible for mobile users to navigate through slides by swiping them. The plugin is SEO ready making it search engine friendly. You have twenty different layout options and slider displays.
This is a gorgeous responsive slider plugin that zooms into the image on display. The plugin supports images, posts, pages, Vimeo and YouTube videos. The plugin has three skins and you can also display animated text at the top of your slides giving you a very professional look.
This plugin is a bit different to use compared to other plugins. To use it, you'll have to download the application on your PC, then create your slides on the application. Then save the slide as a zip file, and finally upload this zip file to your website. To finish up, insert your slides into your post or page with a shortcode. Sounds complicated but it's one of the best slider layout plugins available.
There you have it, our favorite 20 slider layout plugins. No matter the plugin you settle on, make sure it represents what your business does and it's eye-catchy enough to grab user attention.