WordPress is undoubtedly one of the most comprehensive, powerful and secure Content Management Platform out there. Many of the top websites, online news portals and blogs run on this platform. With around 30% of the web using this CMS, it is definitely an established solution for building a web platform.
What if the same CMS platform that powers your websites can also be used to power your mobile application? Yes, that is true! Leveraging the power of WordPress' content management capabilities, one can create a strong back-end for a mobile application as well.
So, if you already are using WordPress for your website and looking for creating a mobile application with same content over there or if you are someone who wants to setup a new mobile application, but don't want to put in much effort building a back-end to control the app content, you can consider one of the several pre-made templates that connect with WordPress and render it into a sleek and intuitive mobile app interface.
Below we list down some of the top pre-built cross-platform mobile app templates picked from CodeCanyon, that could help you setup a mobile application with WordPress back-end. These mobile apps can be published on both Android and iOS devices and are available for as low as $15. Browse below our hand-picked collection of WordPress Mobile Apps and there are high chances you might find one for your next project.
1. WordApp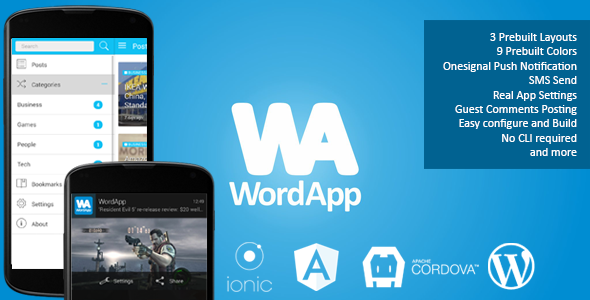 WordApp is developed in Ionic, uses Phonegap/Cordova for cross-platform publishing and is compatible with WordPress 4.x versions. Some of the major features of WordApp include:
Side Menu
OneSignal Push Notifications
Settings Options
Post Listing with 3 Layout Options
Compatible with both WordPress as a Cloud CMS and WP API v2
The app demo comes with a comprehensive documentation and a sample Android App.
Price- $15, Get More Details Here.
2. Hala News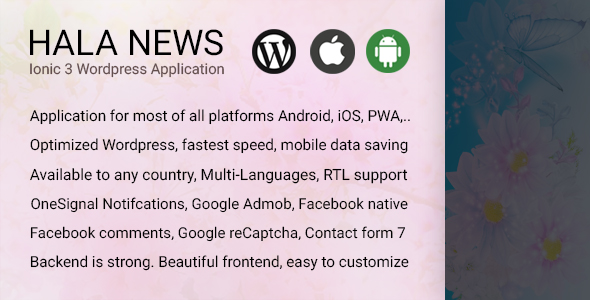 Hala News is one of the most feature rich option we checked on Code Canyon. Built in Ionic 3 and with support of WordPress 4.4+, the mobile app can be published for both iOS and Android platforms. Major features of this code template include:
Optimized for fast loading with around 4KB data per 10 Posts
Support for Push Notifications
Google Admob Banner Ads
Google Analytics Integration to capture user activities
Comment with Facebook
There are demos available for both iOS and Android platforms of this application.
Price- $30, Get More Details Here
3. Selig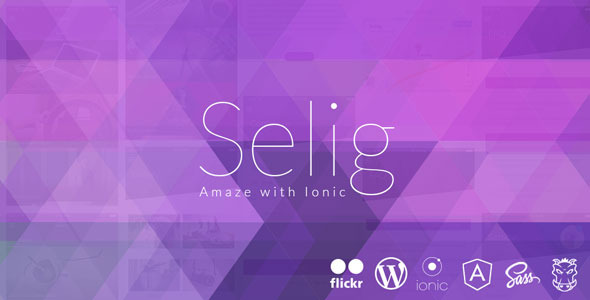 Another WordPress Mobile App that is powered by Ionic and Angular JS. An advantage of this mobile app platform is that it supports WordPress 3.4 and above.Other important features of this include:
Multiple coloured home/grid layouts
Integration with Google Maps
Support for WordPress and Flickr
Facebook and Twitter Login Support
Support of Pushwoosh
Unfortunately, this app doesn't provides a demo to test with, but you can always connect with the author to request one or get more details.
Price- $18, Get More Details Here
4. WordPress Post/Blog/News/Article Ionic App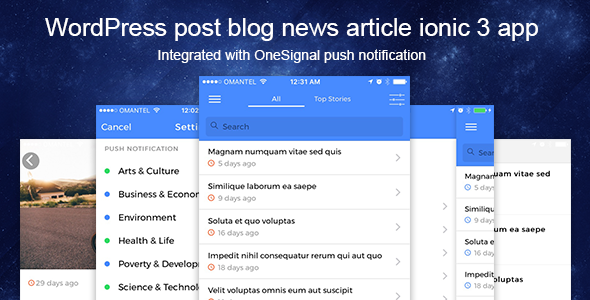 Another powerful and feature rich mobile app that is built on Ionic 3 platform and powered by WordPress versions 4.0 and above. Some of the striking features of this app platform include:
Slide Side Menu
Multiple Home Layouts
Social Sharing
Custom WordPress Login and Registration Page
My Account Page
Onboarding Support
Optimized for Tabs and Landscape Views
Just like other options, this also supports publishing the app to iOS and Android platforms. There are 2 Android Demo versions available for this.
Price- $26, Get More Details Here
5. ionWordPress
ionWordPress comes from an Envato Elite Author who has already published a huge number of Ionic templates on CodeCanyon. ionWordPress supports both Ionic v2 and V3 and WordPress versions 3.9 above. Major features of this include:
WordPress Auth Register/Login
Support for Bookmarks
Push Notification Support for Android and iOS
Google AdMob and Apple iAd Support
Commenting and Social Sharing Support
With tons of components and flexible customisation options, this is a highly recommended WordPress Mobile App and a demo for Android devices is available for download.
Price- $19, Get More Details Here
6. IonWp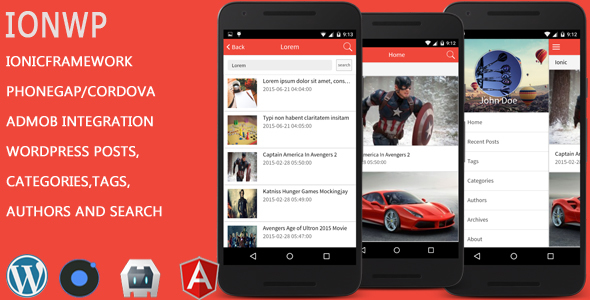 Another Ionic and PhoneGap powered WordPress mobile app that supports WordPress version 4.3.x.  Features packed in this mobile app template include:
Sliding Side Menu
Categories, Tags and Archives
Author Details
Commenting on Posts
An Android version of the Demo app is available for download.
Price- $19, Get More Details Here
Hope this list of ours would help you select a Mobile App template to work with your WordPress back-end and quickly and easily publish the app across multiple mobile platforms.
We would love to hear from you and would appreciate more great templates to include in our list.